What We Like About
Posted on Wed 05/09/12 at 11:15 AM by ezCater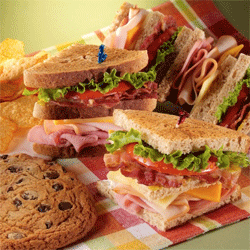 When it comes to delis, it's hard for any one sandwich place to stand out from the crowd. But
McAlister's Deli
rises above the usual fare to serve up a few surprises. Not only are they a good value for the money, but McAlister's is often willing to deliver for smaller groups of 8 to 10 - although they can easily handle orders for much larger groups as well.
While they're primarily known for their sandwiches, two of our favorites from their
catering
menu
are the Hot Potato and Spud Max Bars. The Hot Potato Bar is a good value, with standard potato toppings like sour cream and bacon, but the Spud Max Bar is an even greater value, with additional toppings such as turkey and ham. We suggest adding a bowl or two of chili on the side for slinging atop your spuds. You'll need to order in advance so McAlister's has time to bake enough potatoes for the group, but the results will leave you satisfied long past lunch. And if you have any leftovers, why not combat that mid-afternoon slump with a quick game of hot potato? (Just don't let your boss see you slacking off.)
McAlister's is proud of their "Famous" Sweet Tea, and rightfully so-- it's good! They're also a good breakfast option, offering both a continental breakfast and breakfast sandwiches at an affordable price point.
Customer Reviews
Recent reviews of McAlister's Deli by ezCater customers:
McAlister's Deli (Midlothian)
: "The catering from here is great, but I would use this location much more often if you offered the half baked potato bar like the other Richmond location does. The full (double) potato is just way too much food and the half helps us keep our costs down a bit."
Posted on Thu 09/06/12 at 11:00 AM by Ann D in Pennsylvania
Posted on Tue 03/27/12 at 2:51 PM by Amy F in North Carolina
Critic Reviews
Reviews of McAlister's Deli from blogs and critics around the web:
McAlister's Deli: good food fast
Review of Restaurant Chain
In the mood for soup, salad, sandwiches, or spuds? Whether you choose to dine in or take it home, McAlister's Deli will serve it up good and fast. There are seven salads to choose from, including one chef, three chicken and three vegetarian items...The McAlister's signature sandwiches combine sweet and salty ingredients for a one-of-a-kind ta...
Bringing Potato Salad Back in Style
Review of Restaurant Chain
Their menu offers a wide variety of main course choices, and among the side orders available with sandwiches and panninis, potato salad is a popular choice. The menu is a foodie's dream. They offer a range of tastes and combinations that provide a new, and fresh option for your meal. How long has it been since you really had something dif...