What We Like About
Posted on Thu 04/19/12 at 11:42 AM by ezCater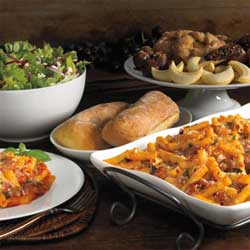 Classy. That's the first word that comes to mind when we think of Maggiano's, an Italian chain that has made a name for itself with its authentic, made-from-scratch dishes. It's a brand people appreciate, and your guests can get really excited about eating.
Although Maggiano's is considered a higher-end eatery, you can certainly still have an economical meal delivered that also impresses your group. Simply choose your dishes carefully. One of our favorites is the Spaghetti with Meat Sauce, a very affordable option that is also quite tasty - and even comes with bread included! When selecting a dessert, you can't go wrong with Vera's Lemon Cookies – a choice that is also very reasonably priced. Just be sure to get to the meeting early to line your pockets with these little bite-sized goodies before your co-workers have a chance to eat them all.
If your budget allows you to spend a little more, we recommend the Rigatoni D, served with herb-roasted chicken, mushrooms, and caramelized onions with Marsala sauce. Not only is it Maggiano's most famous entree, but it's an excellent dish that always receives rave
reviews
from our customers.
Customer Reviews
Recent reviews of Maggiano's Little Italy by ezCater customers:
Posted on Sun 08/12/12 at 3:13 PM by Sharon G in Georgia
Posted on Sun 03/25/12 at 3:36 PM by Staci L in Missouri
Posted on Mon 03/12/12 at 9:20 PM by Lenny S in Louisiana
Critic Reviews
Reviews of Maggiano's Little Italy from blogs and critics around the web:
Philadelphia Magazine
Review of Restaurant Chain
Maggiano's is all about "more"—but don't worry; you certainly won't go hungry. This chain restaurant has established itself as the casual, comfortable place to carb up for the next marathon, with full orders of pasta weighing in at more than a pound. Order three entrées for three people, and you'll end the meal with a doggie bag.
Cincinnati.com
Review of Restaurant Chain
Featuring individual portions often big enough to feed two, Maggiano's excels at providing traditional Italian favorites. Items such as calamari fritte, lasagna and chicken parmesan are as filling as they are tasty. Large groups should consider the family-style prix-fixe menu, which includes four courses with unlimited portions.
Gayot
Review of Restaurant Chain
Reminiscent of a restaurant in New York City's pre-war "Little Italy," Maggiano's is a blast from the past. The large and varied menu of classic southern Italian fare specializes in lavish portions of old-world recipes. Reigning supreme are homemade pastas, the house special being lasagna made with meat or marinara sauce.