What We Like About
Posted on Mon 03/12/12 at 8:00 PM by ezCater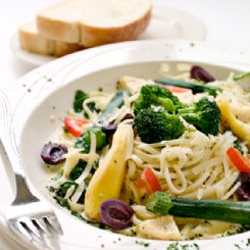 Italian is the closest America comes to having a national cuisine. You can seldom go wrong with Italian fare because not only is it both tasty and comforting, but just about everyone enjoys it. We believe
Macaroni Grill
meets these standards, and even held ezCater's Fall 2011 company event at our local Mac Grill. And we had a great time!
Because all their entrees are served family-style, we recommend
Macaroni Grill
for groups of at least 8 people. One of our favorites from the
catering
menu
is Carmela's Chicken. It's a satisfying dish, it travels well, and our customers think of it as a nice twist on everybody's favorite, Chicken Marsala (which Macaroni Grill also offers). Customers also rave about the homemade Tuscan Bread that accompanies all of
Macaroni Grill's
dishes.
We know it can be tough to find an affordable dessert option at most casual dining chains, but Macaroni Grill offers cookies that work well. They're huge, so you can request that each cookie be cut in half if you need to stretch your budget. You do have to buy at least a dozen though.
Critic Reviews
Reviews of Macaroni Grill from blogs and critics around the web:
Lunch at Romano's Macaroni Grill; always a solid standby
Review of Restaurant Chain
There are a few such consistently sure things around, and Romano's Macaroni Grill has been one of the best. Romano's is one of the smaller national chains with 226 locations throughout the US. It is billed as a casual dining establishment and focus's on Mediterranean, Italian cuisine.....Macaroni's lunch menu remains fairly standard with delici...
The Ultimate Authentic Dining Experience!
Review of Restaurant Chain
More than 35 authentic Italian dishes prepared in exhibition kitchens. Pizzas baked in wood-burning ovens, and home-made desserts! A favorite gathering place for consistently excellent service, and great food.
America's Healthiest
Review of Restaurant Chain
What pushed Macaroni Grill onto our best list is its "Sensible Fare" menu, with entrees like Simple Salmon, a grilled fillet sided by grilled asparagus and broccoli. Grazie for whole-wheat penne available as a substitute in any dish. And bravo for including a grilled skinless chicken breast with steamed broccoli and pasta on the kid's menu. We...