What We Like About
Posted on Fri 06/08/12 at 10:53 AM by ezCater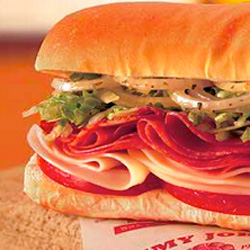 Jimmy John's
distinguishes itself from the other sub chains with their focus on freshness and real ingredients. They bake their own bread, slice their own meats and veggies in-house daily, and even make their own kettle cooked potato chips. And it really does make a difference.
Jimmy John's
catering
is very popular with our customers, and they're always commenting on how great the food tastes.
A couple of our favorites from their
catering
menu
are the Assorted Sub Boxes and the Pickle Bucket. Jimmy John's pickles are the real Kosher style deli kind, so they're worth the extra bucks. And we really like their chips too. For those with peanut allergies, note that the chips are cooked in 100% peanut oil. Another thing we really appreciate about Jimmy John's is the friendly, can-do attitude of the staff. They're just so darn nice!
Customer Reviews
Recent reviews of Jimmy John's by ezCater customers:
Posted on Sun 09/16/12 at 12:41 PM by Sharon G in Georgia
Critic Reviews
Reviews of Jimmy John's from blogs and critics around the web:
The Leafy Green
Review of Restaurant Chain
Jimmy John's is a national sandwich joint that prides itself on fresh ingredients, great prices, and a delivery with a smile...not to mention making the world's greatest gourmet sandwiches.
Jimmy John's: Quality Subs All Over the USA
Review of Restaurant Chain
The bread is always soft, the meat tasty and the veggies fresh. A big upgrade in comparison to the more established national brands.
Colorado Critics
Review of Restaurant Chain
Yes, Jimmy John's is technically a fast food restaurant. Yes, it's a chain but it is also the greatest sandwich you'll find! The service is phenomenal; very fast and friendly. They use high quality ingredients creating the most delectable sandwiches in Colorado.