What We Like About
Posted on Mon 02/27/12 at 7:00 PM by ezCater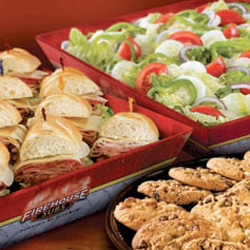 Super value. That's the first thing that comes to mind when we think of
Firehouse Subs
. Our customers are always raving to us about the taste, presentation, and price point of the food. One of ezCater's founders actually ate at the first
Firehouse Subs
back in 1997, and begged them to open a restaurant near him. You'll find yourself ordering Firehouse Subs again and again…and again.
Firehouse's Platter Packs are easy to order and are the best value package. Each pack includes everything you need- subs, chips, cookies, and drinks. It's a complete meal for 10 people, usually for under $70 including tax (excluding delivery). If your budget allows, we recommend adding the Salad Platter as a nice addition to the sandwiches.
Firehouse Subs usually holds to their $100 minimum order requirement, but they will scramble for you if you have a last minute order. And they are a great option for large groups. A Shreveport, LA medical office was able to feed 140 people for $925 using Firehouse's
catering
. It's hard to do much better than that.
Customer Reviews
Recent reviews of Firehouse Subs by ezCater customers:
Posted on Sat 10/20/12 at 12:52 PM by Geralynn S in Missouri
Posted on Sat 08/04/12 at 1:27 PM by Sharon G in Georgia
Critic Reviews
Reviews of Firehouse Subs from blogs and critics around the web:
The KC Plate
Review of Restaurant Chain
Sometimes, you just need a good sandwich. A really good one. Next time the hankering hits, we recommend you check out Firehouse Subs! Fresh meat, great selection and also really innovative specialty subs like "Turkey Bacon Ranch" (my fav) and "Club on a Sub." They steam all of the meats on the spot which makes the cheese melt nicely and all the ...
Would I Buy It Again?
Review of Restaurant Chain
Firehouse Subs is a chain started in the mid 1990s by a bunch of firemen. Playing up on that name and design motif, Firehouse has a countertop full of a bottles of at least fifty hot sauces that you can sprinkle onto your sandwich if you like. For their food options, Firehouse focuses primarily on a variety of sub sandwich options either hot, co...
Indianapolis Business Journal
Review of Restaurant Chain
Founded by firefighting brothers with a family history in this dangerous service, Firehouse Subs succeeds in its effort to introduce hook-and-ladder spirit and real-life-action-hero portions to a crowded sandwich market...The emphasis here is on steamed sandwiches (without microwaving) and the highlight of my visit was the Firehouse Meatball.