What We Like About
Posted on Mon 02/13/12 at 7:00 PM by ezCater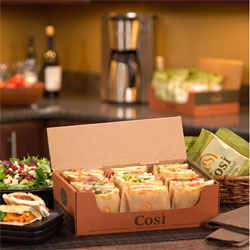 Sophistication is the first thing that comes to mind when we think of
Cosi's
catering
. Not only does their
menu
feature tasty breakfast options and gourmet lunch fare, but we're impressed by thoughtful additions such as the choice of a bag of crunchy mini carrots as an alternative to chips. The
catering
arrives neatly packaged and well-presented, and our customers are always pleased with the quality of the food.
We've found
Cosi
to be a good option for most sized groups, and many locations are willing to handle fairly small orders when traveling short distances. One of our favorites from the
menu
is their flatbread, baked fresh everyday in an open-flamed hearth at each location. Definitely consider adding it as a side item for soups and salads.
For breakfast we recommend the Squagel Basket. We know what you're thinking…what's the heck is a Squagel? Squagels are squares of
Cosi's
scrumptious flatbread with unique fillings such as cranberry orange, cinnamon raisin, and Asiago cheese. Everyone in your group is sure to find a flavor they enjoy.
Critic Reviews
Reviews of Cosi from blogs and critics around the web:
Gayot
Review of Restaurant Chain
Così offers hearty oven-baked sandwiches made with ingredients ranging from the classic to the exotic. Flatbread pizzas include a chicken, fig and Gorgonzola variety as well as a traditional margherita. There is also a selection of savory soups like the tomato basil aurora, salads and other grab-and-go favorites all day long. Among the honest-to...
Phantom Gourmet
Review of Restaurant Chain
Cosi prides itself on serving customers fast. But take one look or one taste, and you know this is no typical fast food restaurant. Here, the flatbread pizzas are all-natural. And always packed with flavor. And believe it or not, customers can even toast their own marshmallows for tableside s'mores.
Under the [Dinner] Table
Review of Restaurant Chain
What I love about Cosi is the use of all the fresh, healthy ingredients—like the basil and mozzarella—and the great prices. Other perks about include free Wi-Fi, the sharable S'mores (including all the fixings and fire right at your table), and their amazing catering services.