What We Like About
Posted on Wed 06/06/12 at 4:23 PM by ezCater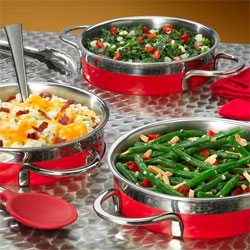 Boston Market's
homestyle meals are always a popular choice with our customers. Not only is the food quite tasty, but we've always found the quality of their
catering
to be very consistent from order to order. One ezCater employee even buys
Boston Market's
cornbread to cart with her to family holidays. It's that good.
You really can't go wrong with their slow-roasted Rotisserie Chicken Buffet. And all of the buffet packages from Boston Market come with your choice of two sides including our personal favorites, Mac & Cheese and Green Beans. We recommend selecting the Cinnamon Apples as one of your sides when you need to stretch your budget, so you don't have to add an additional dessert.
Speaking of dessert, their Chocolate Brownies are an incredible bang for your buck. The Family Size is priced at $5.00 per batch and can be stretched to serve as many as 12 people. You really can't do any better than that. As an added bonus, Boston Market pays close attention to the little details, providing convenient, professional packaging and serving supplies with their meals, including plates with thumb notches for easy serving and eating.
Boston Market even offers a discount for medical sales reps. Just make sure to check the box marked "Medical/Pharmaceutical" when you sign up with ezCater, and the discount will be reflected at the end of every Boston Market order you place with us.
Customer Reviews
Recent reviews of Boston Market by ezCater customers:
Posted on Sun 09/16/12 at 12:40 PM by Sharon G in Georgia
Boston Market #0285 (Cincinnati)
: "I ordered 33 box sandwiches of a variety of sandwiches. The sandwiches were delicious, the salad was very good and the dessert of a cookie or brownie was very good I recommend Boston Market."
Posted on Wed 09/12/12 at 9:22 AM by Theodore C in Ohio
Posted on Tue 04/10/12 at 10:14 PM by Wendy E in North Carolina
Boston Market #239 (Greensboro)
: "I love their catering! You can order online late at night and they will have it there the next day. You can order a variety of protien (chicken, turkey, and meatloaf) plus they have a huge selection of sides (green beans, sweet corn, mac-n-chs, sweet potatoes, and much more). Great for office meetings, weddings, family reunions, school lunches, sports teams, and anything else you can think of."
Posted on Wed 03/14/12 at 7:35 AM by Gpleonar45 in North Carolina
Critic Reviews
Reviews of Boston Market from blogs and critics around the web:
Eating Healthy at Boston Market
Review of Restaurant Chain
Whether you're looking for a frozen meal at the supermarket or want to grab comfort food fast for lunch or dinner, Boston Market is a popular choice. The chain offers home-cooked favorites like meatloaf and roasted chicken with sides like mom used to make. Thankfully, some of these home-style meals are healthy as well as tasty.
Fast & Good Gluten Free Friendly Food Options
Review of Restaurant Chain
Boston Market masters fast, filling, comfort food, typically under $10. I'm in love with their corn and garlic dill new potatoes...Thumbs Up for Boston Market -it's always a quick, but also satisfying and delicious meal, for a decent price!
OTX Lunch Blog
Review of Restaurant Chain
At least once a week, I get lunch from the oft-forgotten, under-appreciated Boston Market. These are among the most satisfying meals of my life.