What We Like About
Posted on Thu 06/07/12 at 3:53 PM by ezCater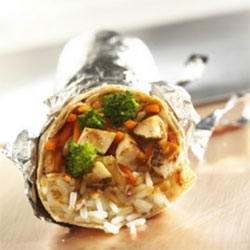 Inventive. That's one of the first things that comes to mind when we think of
Boloco
. This burrito chain delivers above and beyond the standard Mexican flavors with such unexpected options as Bangkok Thai, Memphis BBQ, Buffalo, Cajun, and even Tikka Masala. With so many different varieties, it's easy to please just about any palate.
We give kudos to
Boloco
for being more than just the standard meat and beans
catering
you see at most Mexican chains. In fact, their
menu
offers some pretty tasty tofu that's marinated and grilled for some interesting flavors. It's so good that even non-vegetarian staffers in the ezCater offices have been known to order it.
For those on a diet or watching carbs, we recommend going with a Boloco bowl. And the cookies are huge, so go ahead and request that they be cut in half if you need to stretch your budget.
Critic Reviews
Reviews of Boloco from blogs and critics around the web:
Tastegasms
Review of Restaurant Chain
The ingredients are good, quality, fresh ingredients that one could make a quite a healthy meal out of. The ability to design your own burrito from scratch is great for those people that are trying to keep the ingredients to meet specific standards for diet, food requirements, or otherwise, including skipping out on the wrap to make it a salad ...
Gayot.com
Review of Restaurant Chain
If you are looking for a healthier alternative to fast food, then you have come to the right place. Boloco offers Tex-Mex favorites (available in original, small and mini sizes) like the Yucatan Habanero burrito or bowl filled with habanero salsa, pickled onions, sour cream, black beans and rice.
Cave Cibum
Review of Restaurant Chain
For a fast food restaurant, the options at Boloco are vast. You can go traditional with the Classic (cheese, pinto beans, salsa, cilantro, and rice) or the brand-new and very tasty Yucatan (lime rice, black beans, pickled onions, habanero salsa, and sour cream), or you try something a little un-burrito-like, such as the Mediterranean (black bean...