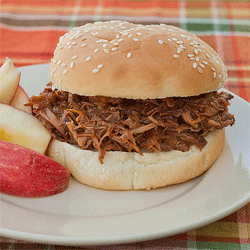 Did you know that May is National Barbecue Month? ezCater offers a number of barbecue menus that hail from different regional barbecue traditions.
Look to Shane's Rib Shack for barbecue in the Carolina style, characterized by its pork dishes and tangy, vinegar-based sauces. Though this chain keeps their sauce recipe a secret, we suspect it's a cousin of vinegar and tomato sauces from the east Carolinas. We suggest pairing their BBQ pork with coleslaw to recreate a true southeastern flavor.
While the Carolinas are known for their piquant sauces, Texas barbecue is not. Chefs in central Texas will season beef brisket with salt, pepper, and sometimes cayenne, and let the smoking do the rest. Restaurants in the eastern part of the state will serve a sweet, tomato-based sauce, but in keeping with Texas tradition, it's optional. Dickey's Barbecue Pit started in Dallas and has spread Texas-style barbecue nation-wide. This chain's tomato-based sauce is another family secret. For a Lone Star lunch, try their sauce (on the side, of course) with the chopped beef brisket.
You may not associate New Orleans with barbecue, but that soon may change. Over the past 10 years, new restaurants have been building New Orleans' name as a barbecue town. While some chefs are importing flavors from different regional barbecues, VooDoo BBQ & Grill has combined barbecue with local culinary practices. This chain seasons meat and seafood with a Creole dry rub before smoking them. Look for N'Awlins BBQ Shrimp on their catering menu, a dish that will give you a great idea of what New Orleans barbecue has to offer.
In honor of National Barbecue Month, consider ordering barbecue from one of these great chains!