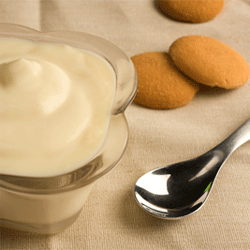 May 22, 2012 — Today is National Vanilla Pudding Day! There is nothing boring and "vanilla" about rich, creamy vanilla pudding! It's simple and easy to make — just mix eggs, milk, sugar, and vanilla extract. You can also pair it with fresh fruit or chocolate for a light dessert.
Puddings date back to the Middle Ages, with earlier versions of the dish being primarily meat-based. Sweet puddings didn't emerge until sometime around the 17th century. And when instant pudding mix landed on supermarket shelves in the 1930's, Americans rejoiced!
Whether homemade or store-bought, vanilla pudding is an easy and tasty treat. Enjoy some pudding from your local caterer in honor of National Vanilla Pudding Day!