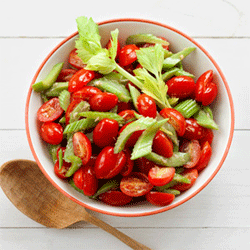 May is National Salad Month! This health food staple was first enjoyed by the ancient Romans over 2000 years ago but didn't become popular in the United States until the late 19th century. Whether served as an appetizer, side, entree, or even a dessert, salads are known for their freshness and many health benefits.
Salads in their most basic form are comprised of leafy greens and dressing, but may include a variety of ingredients depending on their type. You can top a salad with both hot and cold items including meats, cheeses, eggs, fruits, and nuts. Cobb salad, Ceasar salad, and Greek salad are among the most popular entree salads.
In honor of National Salad Month, ask your local caterer to deliver some fresh, healthy salads for your next lunch meeting!