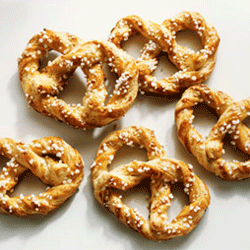 April 26, 2012 — Today is National Pretzel Day! Did you know that the average American eats 1.5 pounds of pretzels a year? But that's nothing compared to the citizens of Pennsylvania — the center of American pretzel production — who eat 12 times more pretzels than the national average. That's a lot of pretzels!
These knot-shaped snacks have a rich culinary history. Although there is some debate as to who invented the pretzel, one story says they were created by Italian monks in 610 AD to use as rewards for children who learned their prayers. And the popular expression "tying the knot" when getting married is thought to have gotten its meaning from a 17th century wedding tradition involving a pretzel. During the ceremony the couple would say a wish, break the pretzel, and then eat it to symbolize their everlasting love for one another.
The traditional pretzel shape is a distinctive symmetrical looped form, but they are also very popular in their easy-to-eat stick shape. Various glazes, salt crystals, sugar, and seeds can be added for seasoning and decoration. There is even a salad-flavored pretzel sold in Asia!
So for your next lunch meeting, ask your local caterer to send some pretzels instead of the usual chips to go with your sandwiches.