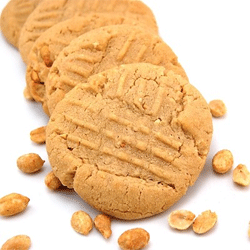 June 13, 2012 — Today is National Peanut Butter Cookie Day! Peanut butter has been a household favorite since the early 20th century, and Americans supposedly eat enough of the stuff each year to coat the floor of the Grand Canyon. So it's hard to believe that it wasn't until the 1930s that someone had the genius idea to add it to cookies!
Ever wonder why peanut butter cookies have those funny criss-crossed fork marks on them? The truth is no one is really sure. The first reference to adding such marks appeared in a 1936 Pillsbury cookbook. There was no explanation provided for why one needed to add the marks, but people did it anyway. Some say the marks are intended to ward off evil, while others believe they were placed as an indication to allergy sufferers that peanuts were in the cookies. Either way, they add a nice old-fashioned touch to an already heavenly cookie!
As a special treat, ask your local caterer to bake you some delicious peanut butter cookies in honor National Peanut Butter Cookie Day!