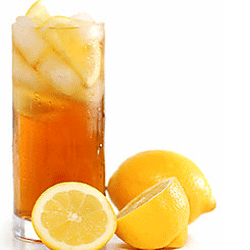 June is National Iced Tea Month! Iced tea is a refreshing summer beverage that has appeared in both English and American cookbooks since the early 19th century. However, it didn't become popular in the U.S. until the 1904 World's Fair in St. Louis, when a vendor realized that no one was buying his hot tea due to the warm weather so he began to serve the tea on ice.
Iced tea can be prepared in both sweetened and unsweetened varieties, with Southerns typically preferring sweet tea and Northerns preferring it unsweetened. In the U.S., iced tea makes up about 85% of all tea consumed and is a popular alternative to soft drinks — especially in hot weather. It can be served in a number of flavors including lemon, peach, raspberry, and passion fruit. There is even a green apple flavored iced tea sold in Japan!
Iced tea is a great beverage option for almost any catering order. So for your next lunch meeting, ask your local caterer to deliver some iced tea with your meal in honor of National Iced Tea Month.