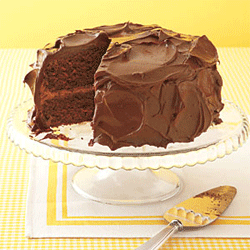 May 19, 2012 — Today is National Devil's Food Cake Day! Best prepared with real cocoa, this cake gets its name due to its rich mahogany color — the result of baking soda causing the cocoa to redden as it bakes. Devil's Food Cake is considered the counterpart to fluffy, white Angel Food Cake.
This sinful dessert first appeared in America in the early 20th century. And because the recipe calls for more chocolate than is used in a traditional chocolate cake, Devil's Food Cake has become a favorite of chocolate lovers everywhere!
In honor of National Devil's Food Cake Day, surprise your guests with this decadent dessert courtesy of your local caterer.