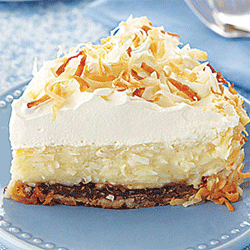 May 8, 2012 — Today is National Coconut Cream Pie Day! Coconuts first made their arrival in America quite by accident when a Spanish ship named the Providencia was shipwrecked off the coast of Florida in 1878, scattering its cargo of nearly 20,000 coconuts. Industrious settlers found the coconuts when they washed ashore and planted them around their homes, thus growing the first American coconut palm trees.
The coconut is among one of the most useful fruits in the world! Its water, meat, milk, and sugar all have a number of cooking uses – including in the making of the delectable coconut cream pie. This light and refreshing dessert is filled with coconut flavored custard, topped with whipped cream and toasted coconut, and then served cold.
For your next lunch meeting, see if your caterer can whip up this tasty pie in honor of National Coconut Cream Pie Day!