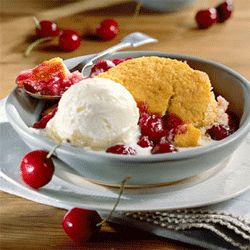 May 17, 2012 — Today is National Cherry Cobbler Day! Cobblers emerged during the Colonial era when cooking methods were more primitive, and the early settlers would "cobble" together whatever ingredients they could find and cook them over an open fire. It was only in the 19th century that cobblers evolved into a dish served mainly as a dessert.
Cobblers are very similar to pies but differ in that they only have one crust, usually on top. And cherry cobbler is one of America's favorite cobblers! May and June are the best months to find fresh cherries to prepare this simple, delightful dessert.
In honor of National Cherry Cobbler Day, indulge your guests with this tasty treat courtesy of your local caterer.