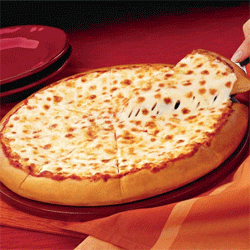 September 5, 2012 — Today is National Cheese Pizza Day! Americans sure do love their pizza. In fact, the average American consumes 46 slices per year. That's a lot of pizza! And although non-traditional pizza toppings may be all the rage these days, good ole' cheese pizza is still the top selling pizza type in the U.S.
The first pizzeria in the United States opened in 1895 in New York City, but it wasn't until the 1950s that pizza really took off. Many Italian-American celebrities ate it, and the Dean Martin hit "That's Amore" mentioned it. But it was teenagers and college students that turned pizza into a true cultural icon! Pizza is so popular that pizzerias now represent 17% of all U.S. restaurants.
Next time you need catering for an office lunch or party, treat everyone to a few boxes of this classic pie in honor of National Cheese Pizza Day!