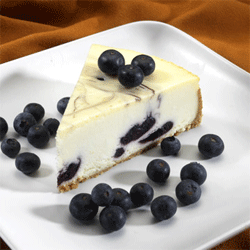 May 26, 2012 — Today is National Blueberry Cheesecake Day! Cheesecake has been around for a really, really long time. In fact, the first cheesecake dates back to ancient Greece when it was served to athletes participating in the first Olympic games in 776 B.C. Cheesecake was introduced to Great Britain and Western Europe by the Roman conquering armies in 1000 A.D. and was later brought to America by European immigrants.
Did you know that Maine grows more blueberries than any other U.S. state? In fact, Maine is the largest producer of blueberries in the entire world! Blueberry season begins in May and ends in late summer, so now is the perfect time to bake a cheesecake using fresh blueberries.
At your next event, treat your guests to a rich, creamy blueberry cheesecake in honor of National Blueberry Cheesecake Day!