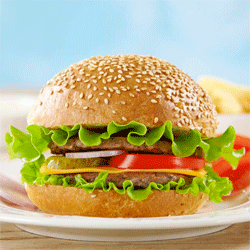 September 18, 2012 — Today is National Cheeseburger Day! Cheeseburgers are as American as apple pie. In fact, the average person enjoys 150 cheeseburgers per year. That's a lot of burgers!
There's some dispute as to who created America's first cheeseburger, but many credit Lionel Sternberger of Pasadena, California. Back in 1924, 16-year-old Lionel slapped a slice of American cheese onto a hamburger as it was being grilled at his father's sandwich shop, the Rite Spot. Lionel and his father thought it tasted great and dubbed the combination a "cheese hamburger." And the cheeseburger was born!
Next time you need catering for an office lunch or party, treat everyone to some good ole' fashioned cheeseburgers in honor of National Cheeseburger Day! Keep in mind that many caterers offer this American staple in an easy-to-eat, mini version as well.